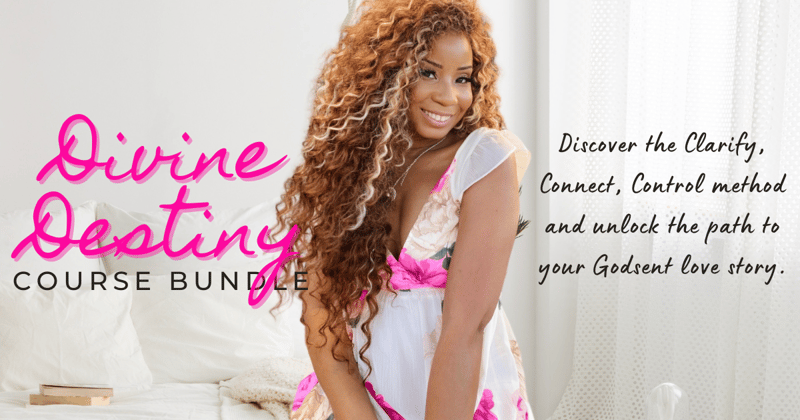 Divine Destiny
$350.00
Are you seeking to deepen your spiritual connection, build unwavering trust in your intuition, & establish healthier boundaries in dating? Divine Destiny bundles courses that will help you achieve these transformative goals and more.
Inside Divine Destiny:
Hear God's Voice: Strengthen your connection with divine guidance through insightful lessons & exercises for a purposeful life.

Trust Holy Spirit: Develop unwavering faith in the Holy Spirit's guidance, releasing fear & doubt to embrace life's uncertainties confidently.

Create Boundaries for Healthy Relationships: Discover the key to establishing & maintaining healthy boundaries in your relationships.

Attract Your Godsent: Illuminate your path to love by discovering how to recognize & draw in the partner uniquely crafted for you. Unveil the secrets of manifesting the love story you've been destined for.
The Divine Destiny Way:
Clarify: Set relationship goals & affirmations in a journal for daily recitation.

Connect: Connect with the divine through daily acts of honoring God.

Control: Set & maintain healthy boundaries to avoid toxic relationships.
Divine Destiny Benefits:
Time-efficient Learning: 30-minute daily lessons for seamless integration into your schedule.

Transformational Results: Experience 100% positive change in your self-assurance, mental clarity, & commitment to maintaining healthy boundaries.
Divine Destiny Bonuses:
Immediate Access: Instantly start your transformative journey upon enrollment.

Exclusive Content: Unlock hidden insights and wisdom through private posts.

Group Coaching & Community: Connect with like-minded women & receive group coaching.

Flexible Payment Options: Choose between one-time or installment payments with lifetime access.
Embrace this opportunity to build a stronger connection with Holy Spirit & create a healthier, more fulfilling romance! Are you ready?
Unavailable For Purchase